The following lists recent updates to the Syncplicity platform.
You may also want to take a look at:
June 2019
April 2019
March 2019
December 2018
November 2018
Rename Syncdrive file and folders
June 2018
May 2018
March 2018
External Sharing visibility


Objective: Our External sharing model has evolved to address 2-tiers (Internal and affiliate) and 3-tiers (Internal, Affiliate and External). In order to map the external and internal sharing model with folders, through this feature in Web, visual indicators (Outgoing External, Outgoing Affiliate, Incoming External, Incoming Affiliate or Outgoing Affiliate, External) will be associated with folders depending upon whether the folder has been shared to or received from a trusted partner.
In Files, a user will see corresponding status under column 'Type' while an admin will see them in Manage Folders, under column 'Shared'
As an example - For your tenant, under Incoming Shared Folder policy, if your partner is specified as an affiliate under Specific domains, then a folder received from partner will have status 'Incoming Affiliate' otherwise it will have status 'Incoming External'.
Next to the status, tooltip is also displayed.
As part of phased roll-out, feature is ENABLED for a few tenants only.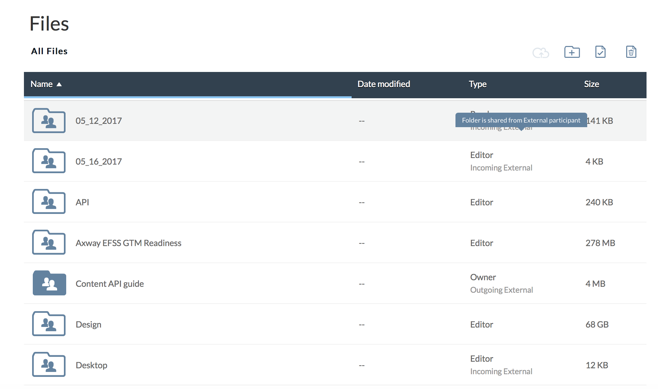 Web client rebranding

We have updated our web client to reflect Syncplicity now being part of Syncplicity. Read the Press Release and find out more about Syncplicity. Over the next few months we will adding some new exciting features to our web client so keep a look out for that.
If you have any feedback about the rebranded web client please send it to support@syncplicity.com
March 2017
Internal Group Sharing Restrictions

Control internal company sharing between groups
Enforce compliance where conflict of interest may be present
Separate control for incoming and outgoing shares
Enforce read-only for incoming shares
Policy applies both to sharing of folders and files (where recipients are specified)
New Policy Compliance admin report

API User and Scope

Limit scope of API access through Application Token
New API User type
Granular control of scope of access
February 2017
Hide install tab company setting

Admin is able to hide install tab from web user interface
Prevent user download of Syncplicity clients in case of controlled enterprise rollout
Microsoft Office Online integration supporting viewing and editing of Office documents directly from Syncplicity web, details here.
Added support for Syncplicity PrivacyRegions which gives global customers concerned with data privacy and regulatory compliance the option to locate their company account in the US or EU PrivacyRegion, assuring that all their data, including personal information (PII), metadata and file content, is kept within the region of their choice, while also allowing users to seamlessly collaborate across regions with a single account
Security enhancement - block SSO bypass for Global Administrators
Enhanced Folders Report to show StorageVault and Special folders
Multi-level sub-folder sharing

Allow for natural organization of folders with waterfall permissioning
Sharing any number folders in a folder hierarchy
Inheritance of permissions from higher level shared folder
Details on multi-level sub-folder sharing here

Affiliate Sharing

Keep control of company content while facilitating collaboration with affiliate companies
Works with group-based policies to provide fine-grained content control
Folder sharing to white-list of affiliate email domains
Separate control for incoming and outgoing folder shares
Enforce read-only for incoming folder shares
Details of configuration described here
Company customization

Customize support links from Syncplicity website
Customize email footer for sharing email
Customers can contact Syncplicity Support to enable customization
May 2016
Folder Re-sharing Rights

Restrict re-sharing of a folder to selected participants
Re-sharing rights managed by Owner of folder or Global/Support Admins
Optional email notifications to folder Owner when folder is re-shared
April 2016
European Cloud Storage

Select the storage location for files uploaded to Syncplicity Cloud
Personal and Business Edition can choose US Cloud Storage or EU Cloud Storage
Enterprise Edition Administrators can use multiple Cloud StorageVaults and on-premise StorageVaults with policy-driven Hybrid Cloud
March 2016
End-user self service account lockdown

Company setting to restrict end-users from performing self-service account changes
Ensure Active Directory/LDAP is the source of truth of identity information, reducing auditing and security risks
Business and Enterprise Edition Global Administrators can lockdown users' ability to change their name, add email addresses, or cancel their account
February 2016
New role eDiscovery Administrator user role

Role provides read-only view of users, groups, folders, devices and reporting
This privileged role includes the ability to impersonate a user without the user being notified (allows a user to be investigated without their knowledge)
eDiscovery Admins can be constrained to only view and impersonate users that are members of groups they have been assigned to manage (group-based admin feature)

Group-based administration

Applies to the Support Admin and new eDiscovery Admin roles
Global Admins can assign up to 5 groups of users to manage (if no groups are assigned Admin's ability to manage all users remains)
Admins that have been assigned groups to manage can only access the user accounts of users within these groups and only these user's objects (folders, devices, audit trails, etc.)
December 2015
Mobile Passcode Enforcement Policy updated to support an optional passcode re-entry time setting (supported on iOS App 3.6.0 and higher, and Android App 3.2.5 and higher)

Admin console user interface improvements