Before you start, check the following:
Download and install the Syncplicity Mac client
To download the Syncplicity client, go to https://my.syncplicity.com and enter your email address. Depending on your account, you may be prompted for a password or taken to an authentication page where you enter your single sign-on credentials.
Once logged in, select Install from the menu on the Syncplicity web page, make sure that Mac is selected, then click Download Syncplicity.

Once downloaded, double-click on the .DMG file to start the installation process. The installer may ask you for access to the location, where it was placed - click on OK to continue.
Follow the steps to install the Syncplicity Mac desktop client.
The Syncplicity client will automatically start once the installation is complete. You will be asked to allow Syncplicity notifications - click "Allow" to enable them.
Log into the Synplicity app.
If you are running MacOS 11.0 (Big Sur) or later you will be asked to allow the use of a Syncplicity kernel extension. The kernel extension helps Syncplicity integrate with the macOS file system and deliver your files on demand, whenever you access them in Finder. For detailed information please see Allowing Syncplicity Kernel Extension for macOS.
Following are tips for each screen:
Login screen: Enter your Syncplicity username and password. If your administrator has advised you to use your single sign-on credentials, select Single Sign on (SSO). Simply enter your email address and select Login and you are taken through a single sign-on authentication process using your company's identity provider solution.
Configuration Screen:

The Computer name

is your system name is usually used as the default name. Optionally, you can change it. This is the name that displays in your Syncplicity account's list of devices.

The Syncplicity folder location is the place on your desktop where your Syncplicity folders are stored. Usually the default location is used. Optionally, you can change it to a different location by clicking the Change... button and selecting a new location.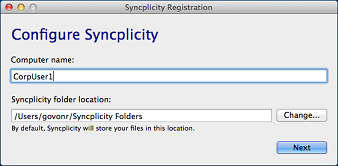 Select folders to sync
NOTE: If you have a Syncplicity Personal Edition account, you are not presented with this screen.
You are prompted to automatically synchronize the folders shown in the screen. Check or uncheck the folders that you want to have automatically synchronized. When you synchronize folders, the content is stored in both your desktop and a Syncplicity cloud or a storage area designated by your IT department. If you already have a Syncplicity account, you see the list of folders you have in your account; syncing these folders downloads the content to your desktop.
If you have an administrator, you may not be able to choose which folders are automatically synchronized.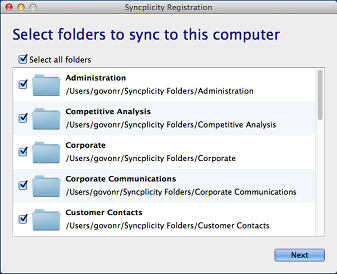 Tutorial
If this is your first time installing the Syncplicity client, read through the tutorial.
After you run Syncplicity for the first time, you do not need to run it manually. The Syncplicity client automatically runs each time you turn on your computer.
Checking for updates
The Syncplicity client can update itself so that you always have access to features and improvements as they become available. Syncplicity periodically checks for updates and displays a window if an update is available. You can also manually check for updates using the Syncplicity menu.
Click the Syncplicity icon in your menu bar.
Choose Check for Updates. Syncplicity checks for an updated version of the client.
If no updates are available, click OK to exit. If updates are available, continue to the next step.
Review the features in the updated client then click Install Update.
Syncplicity downloads the updated version then prompts you to restart Syncplicity.
Next Step