Before you can use the Syncplicity Outlook Add-in for Windows, you must be logged in to your Syncplicity account. Both Single Sign-On (SSO) and non-SSO accounts are supported.
If you have the Syncplicity desktop client for Windows on your system and you are logged in, you are automatically logged in after installing the Outlook Add-in. Otherwise, you can log in to your Syncplicity account by clicking on the Syncplicity icon in the Outlook ribbon then clicking Login.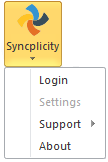 In the login dialog box, enter your username which is in the form of an email address. If not using a corporate account, uncheck the Login using a corporate account box then enter your password. If unsure, just click Login. You are prompted if you need to enter a password. Once logged in, you do not see another message or dialog box. However, you can now use the Outlook Add-in features.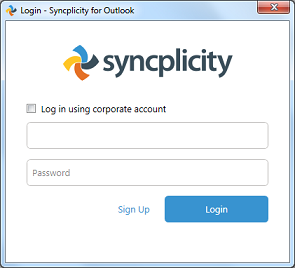 NOTE: If your administrator has disabled the Outlook Add-in for your account or you have an authenticated StorageVault, you are shown a message that the Outlook Add-in is disabled and you will not be able to log in.