You can email shared links to files instead of sending the files as attachments to the email. One advantage is that you can now email files that are normally too large to send through email or were prevented from being sent due to Exchange size limitations.
You can still use the native Outlook attach file option to attach files, or use the Syncplicity Outlook Add-in attach file option. There are slight differences.
Using the Outlook Attach File
In Outlook, choose to send a new email or reply to an email.

Attach one or more files as you would normally.

Send the email.

If prompted by a Confirmation message, confirm that you wish to send the files using Syncplicity.

You can configure Syncplicity Outlook Add-in to automatically send files greater than a specific size. Go to Settings -> Send Options tab then select Send attachments over certain file size using Syncplicity. By default, the file size value in this option is set to the Exchange limit. You can change this value unless your administrator set this size using a policy. The Send Options settings are applicable only when using the Outlook Attach file option, not when using the Syncplicity Attach File option. For more information, see Configuring Outlook Add-in settings.
Using Syncplicity Outlook Add-in Attach File
1. In Outlook, choose to send a new email or reply to an email.
2. Click Attach Files in the Syncplicity ribbon for the same result.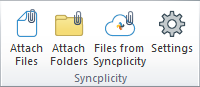 3. Send the email.
NOTE: The Send Options in Settings are not applicable when using the Attach Files or Attach Folders options in the Syncplicity menu.
Email the attachments
Regardless of the method used, the files are uploaded to your Syncplicity account when you click Send and a link to each file is included in the email. Recipients of your email can click each link to download the file. For example: