Your account may have multiple devices, such as a Windows or Mac desktop, a smartphone and a tablet, that have a Syncplicity client to access your account.
To see a list of devices associated with your account, click Account → Devices from the submenu.



Unconfirmed devices
If Device Multi Factor Authentication is enabled on your account, upon trying to access your accout from a new device you may receive a notification asking you to first confirm this device. An email informing you about the same is also sent to your primary email address. This serves as an additional security feature to prevent unauthorized login attempts.
If you are using older client versions, you will not see the notification in the client. Instead, the login window will be stuck in progress. The email to confirm your device is still sent, however. This is valid for the following versions:
Windows 6.4.0 and older
Mac 6.2.2 and older
iOS 4.10.1 and older
Android 4.9.0 and older
Outlook Add-In for Windows 1.6.0 and older
Please upgrade to the latest version to avoid issues. See Latest client and server versions for more information.
Under Account → Devices you will see a list of all your synchronized and unconfirmed devices. Click Verify next to the unconfirmed device.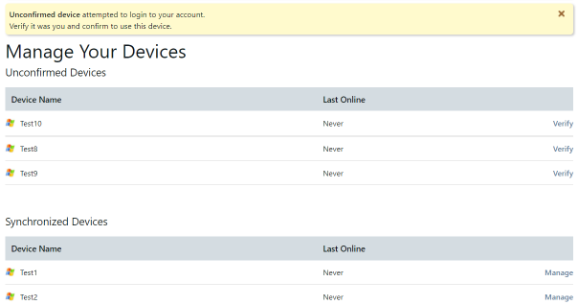 In the Verify Device page, you can see when it was used to attempt to log in to a Syncplicity client. Click Send code to send a verification code to your registered email address.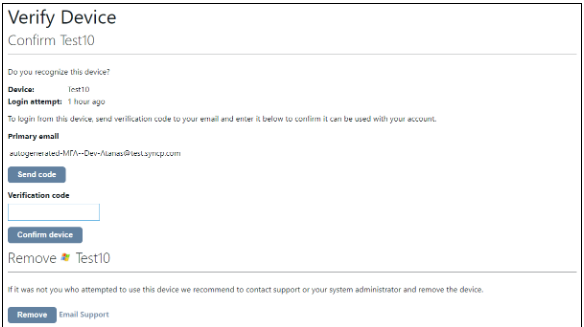 Once the email is received, enter the 10-digit code in the Verification Code field in the same page and click Confirm device. Please note that the verification code is valid for 30 minutes.
Remove a device
To remove a device, select the Manage link of the device you want to remove, then select REMOVE. This will diable the device's access to the account. However, any files synced or downloaded to the device will remain.
If you want to remove a device and delete all files synced or downloaded to it from Syncplicity, select REMOVE AND WIPE.
You can also remove a device from Account → Login History. For details see Login history.
NOTE: The Wipe and Remove option is not available if no files were downloaded to the device.
Remove an unconfirmed device
To remove an unconfirmed device, click Verify next to it and then click Remove at the bottom of the page.
Rename a device
To rename a device, select the Manage link of the device you want to rename. Enter a new name and select Rename.
Unconfirmed devices first need to be confirmed, before they can be renamed.