With SyncDrive you have access to all your content without syncing it all to your desktop. SyncDrive provides a view of the storage you are consuming in Syncplicity and on your desktop. This provides a good solution for when continuous access is needed, but there is not enough space to download all of the contents to your hard drive or virtual desktop. When you open a file in a SyncDrive folder the full content streams to your computer and remains in cache for a period of time. SyncDrive also allows you to specify files and folders as available offline to ensure access even without a network connection.
SyncDrive allows you to make files and folders available offline. SyncDrive is part of Syncplicity version 5.3+ and is available on:
SyncDrive installs alongside the existing Syncplicity folders, which are not affected by the activation of the SyncDrive feature. Folders must be converted to SyncDrive to be visible to users in their SyncDrive on the desktop.
If your Syncplicity administrator has enabled dynamic loading, there might be a short delay before a synchronized folder or file opens. However, when enabled, the number of synchronized files in a folder can be almost unlimited. For best performance, do not exceed 25,000 files and folders per folder level. For example, you can have up to 25,000 subfolders in a folder, and each subfolder can also have 25,000 files and folders.
Dynamic loading was made available in Mac client 6.0.0.
Where to find SyncDrive
To open SyncDrive, click the Finder icon and select Syncplicity: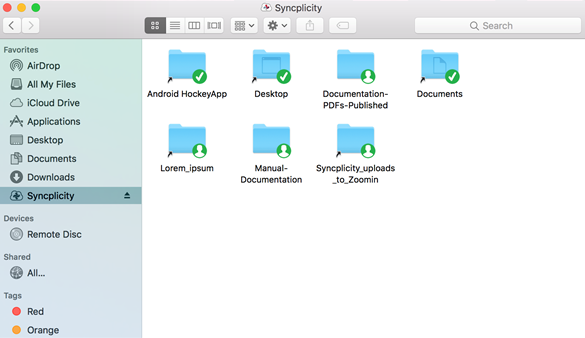 NOTE: Version 5.3+ of the client must be installed to use SyncDrive on the Syncplicity desktop.
Stop synchronization
To stop synchronization or unmap a SyncDrive folder:
Option 1
Right-click a folder.

Select Remove from device (keep in cloud).
Option 2
Open the Syncplicity tray icon.

Select a synced folder.

Select

Remove from this device.
Convert a folder to SyncDrive
Use the following steps to convert any top-level folders you own to SyncDrive.
Your company administrator, or Owners of folders shared with you, may already have converted folders. In this case, they already display in your SyncDrive.
To convert a folder to SyncDrive:
Go to

my.syncplicity.com

and log in with your Syncplicity credentials.
Select Files in the navigation header. Select All files

(if not already selected).
Enable Allow SyncDrive access from desktop and select Save.
Select Yes to confirm the conversion of the folder to SyncDrive, then select Yes, CHANGE TO SYNCDRIVE. The page displays a message when the folder's type was changed successfully.
From release 6.1.0, you can map the SyncDrive folder as a local folder. Any unsynced changes in the mapped folder continue to be synced.
Prior to release 6.1.0, conversion of a folder to SyncDrive unmaps the folder for existing participants who have mapped it locally. Any unsynced changes in participants' mapped folders are lost when the folder is converted to SyncDrive. You must go to SyncDrive to continue working in your files. Depending on how your Company policy for remote wipe is set, the previously mapped file remains on disk or is removed. Participants receive an email notifying them the access to the folder has been changed and now is available in SyncDrive.
Make available offline
SyncDrive allows you to specify a single file as available offline, or a folder and all of its files. Synchronized files and folders marked as offline are available for offline use.
The Storage tab on the Syncplicity Settings window displays the storage used by offline files.
To add as offline:
Open

Finder

and navigate to SyncDrive path. The path displays the folders and files.
Right-click on a folder or file and click Syncplicity → Make available offline. The files or folder are downloaded to your local hard disk, and the folder or file overlay icon changes to a star symbol.
Make available online only
To make a folder or file available online only:
Open

Finder and navigate to SyncDrive path. The path displays the folders and files.
Right-click on a folder or file and click Syncplicity → Make available online only.
Folder icon overlays
The following tables describes the Syncplicity folder and file icons:
Folder icon

File icon

Description

Green check mark: All files and folders are available locally in SyncDrive and synced with Syncplicity.

Blue cloud: The file is in the Syncplicity cloud and not local. For folders that some or all the files and folders in that folder are in the Syncplicity cloud. These icon overlays are only applicable to SyncDrive and not to locally mapped Syncplicity folders.

Orange syncing: The folder contains files that are currently syncing with Syncplicity. For the file, it is the file that is currently being synced.

Not applicable to files.

Green human: The folder is a shared folder for which the current user is the owner.

Not applicable to folders.

Grey cross: The file is offline and cannot be accessed until Syncplicity is back online. Alternatively, it indicates the file has been excluded from Syncplicity.

Folders will not show any icon overlays when offline or if they are excluded.

Star: The folder is available offline.
Manage your storage
With SyncDrive you have access to all your content without syncing it all to your desktop. SyncDrive provides a view of the storage you are consuming in Syncplicity and on your desktop. To access your storage, in the taskbar, select the number for the amount of storage used.
From the My Syncplicity Storage Details screen you can select any of your available storage locations and view the storage totals for active files, old file version, deleted files, and remaining available storage.
You can identify the local storage used by the regular Syncplicity folders, SyncDrive offline and SyncDrive cache. The amount of free space available in your SyncDrive is also displayed. You can control how much disk space your SyncDrive cache can consume on your desktop.
You can clear the SyncDrive cache and offline files and folders from the My Syncplicity Storage Details screen of the Syncplicity Settings.
Select

Clear SyncDrive cache to removes all recently used files from disk and frees up disk space. This does not remove any offline files, which remain available when offline.
Click Clear offline to remove local offline files and folders. Files that are cached, but not offline, are not affected. When offline files and folders are cleared, the local copy is removed.
Create, copy, or move folders into SyncDrive
You can create, copy, or move folders into a SyncDrive folder or at the root of the SyncDrive folder. However, you cannot create, copy, or move a folder to the root of SyncDrive.
If you copy a large number of files into the SyncDrive, the actual cache size can go above the specified size. Once the upload is complete, the cache size will return back to the specified value.
Move and rename files and folders inside a SyncDrive folder
You can move or rename the files and folders inside SyncDrive folder. You cannot move or rename files and folders across top-level SyncDrive folders. Moving folders within a SyncDrive folder is permitted if the participation (sharing) of subfolder shares is maintained. Keep in mind, you may have several shared subfolders. See Rename SyncDrive files and folders for details.
Offline behavior
When Syncplicity is offline, SyncDrive provides offline access to your offline files and recently used files. The rest are not be available until the connection to Syncplicity is restored.
Known limitations
Due to the Finder's default behavior, when a folder is merged

in Finder that is renamed to an already existing name, or is moved to a destination that has the same name, this causes a deletion of files from the destination directory.
Moving or renaming of a folder or file to a name that is already deleted fails.
Searching for a SyncDrive file returns no result in Finder.
Rarely, upgrading can fail. The workaround is to restart the client.
Dynamic loading of files with folders containing 50,000 files or more takes additional time to display the content in Finder.
When a file in SyncDrive is in preview in Finder or Quick Look, and you quit the Syncplicity client, a

"There are opened files in syncdrive- Exit any way?" warning is displayed, even if you have no open files in Syncdrive. This is caused by the preview process - simply confirm that you want to exit the client.

When you edit a Microsoft Word file and save your changes, sometimes a '.fuse_hidden' garbage data file is shown in the folder of the Word file. Such files are automatically removed after some time, or when you restart the Syncplicity client.