The Syncplicity taskbar allows you to access and manage your synchronized files and folders, as well as your desktop client settings. The Syncplicity taskbar icon also displays status information about the client. The status is indicated by the various icons:
| | |
| --- | --- |
| | Syncplicity is uploading or downloading files. |
| | Syncplicity account is over quota or when there is an error in the sync status. |
| | Client is connected but not transferring files. |
| | Client is not connected to the service. |
To open the Syncplicity taskbar, click the Syncplicity icon (

) in the Mac taskbar.
If the Syncplicity icon is not there, go to your Applications and start Syncplicity.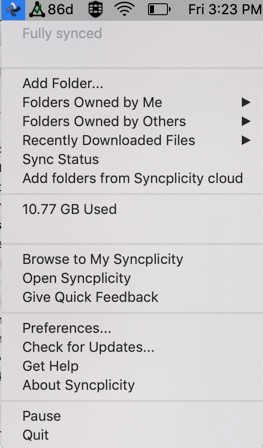 The Syncplicity taskbar allows you to:
View the details on your sync status.
Add a folder to Syncplicity from your Mac that you want to synchronize with Syncplicity.
Review the list of folders, and select or unselect folders syncing with this computer.
View recently downloaded files.
Sync Status allows you to view the status of the items that have not synced.

Add folders from Syncplicity Cloud

allows you to synchronize some or all of your Syncplicity folders (owned by you and shared with you) between your desktop and your remote storage (Syncplicity cloud or storage area designated by your IT department).
View the storage used.
Browse to My Syncplicity allows you to open the web based application for Syncplicity in a web browser.
Configure your Syncplicity client settings.
Check your client version and update to the latest version.
Open the local folder where Syncplicity resides.
Pause or resume the synchronization.