Syncplicity supports virtual desktop infrastructure (VDI), which gives users secure access to centrally managed desktops running in the data center. VDI provides users a personalized desktop experience with an option to have full administrative control. Users can access their desktops from any connected device.

Verify cache size
To verify the SyncDrive cache size:
Start the Syncplicity client.
Open the Settings window.
Select the Storage tab.
Logging off clears cache
When you log off, the Syncplicity cache is cleared locally. However, files not in the synced state remain in the cache and are not removed.
If you attempt to log off while Syncplicity files are being uploaded or attempt to save files with policy exclusions, the following error message is displayed: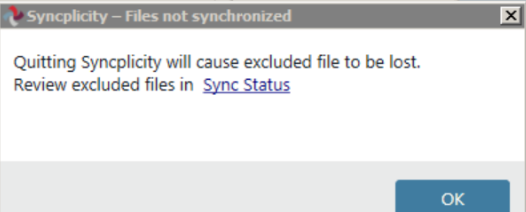 The file extension policy settings are controlled by your company administrator.