Device multi-factor authentication is enabled automatically for all free accounts. To get this feature activated, email support@syncplicity.com or contact your Syncplicity Customer Success manager.
As an administrator, you can enable or disable multi-factor authentication for unconfirmed devices. This serves as an additional security measure to prevent unauthorized login attempts.
A device is marked as unconfirmed in the following cases:
Each device after the second one registered within a 5-minute period.

Each device after the 25th one used on this account.

A new device is used on an account after an account inactivity period of 3 weeks or more.
In My Syncplicity, go to Admin > Settings and click Device Multi Factor Authentication (MFA).
If enabled, users accessing a Syncplcity client (desktop, Mac, mobile, or Outlook) from a device for the first time will receive a message asking them to verify this device in My Syncplicity. An email informing them about the same is also sent to their primary email address.
For older client versions, the notification in the client will not appear. Instead, the login process will be stuck in a loop. The email to confirm the device is still sent, however. This is valid for the following versions:
Windows 6.4.0 and older
Mac 6.2.2 and older
iOS 4.10.1 and older
Android 4.9.0 and older
Outlook Add-In for Windows 1.6.0 and older
Please upgrade to the latest client version to avoid issues. See Latest client and server versions for more information.
When a user with an unconfirmed device logs into My Syncplicity, they will see a notification informing them about it and asking them to verify it.
Even if the option is later disabled, any still unconfirmed devices need to be verified before they can be used.

To verify a device, the user needs to go to Account > Devices, then click Verify next to the unconfirmed device one they are interested in.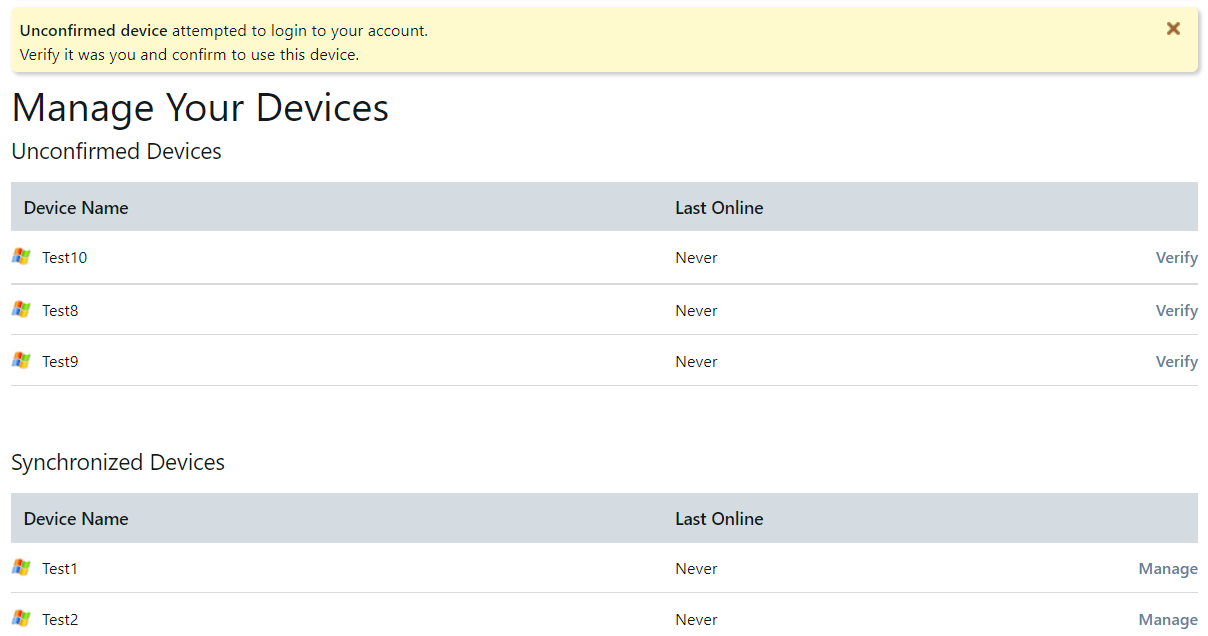 On the Verify Device page, the user needs to click Send code to send a verification code to the registered email address. Once the email is received, they need to enter the 10-digit code in the Verification Code field on the same page and click Confirm device. The verification code is valid for 30 minutes.